John 4 is so amazing!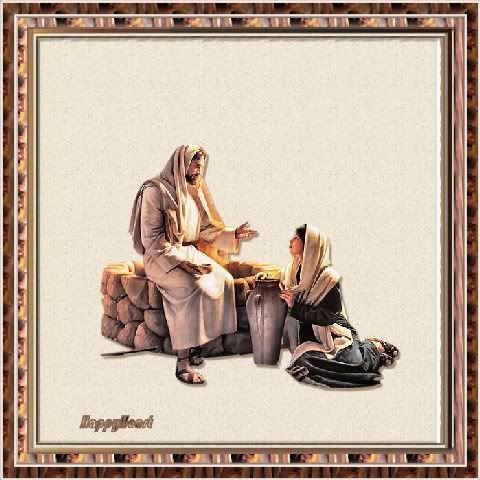 Jesus had a Divine appointment ~~ His Spiritual food was to save hungry souls, sinners blind to the Truth .
oh, this is so amazing, The God of the Universe chose to 'tent' with us sinners! Our amazing God knew from before time began that He would save, restore, and renew the righteous! No, no, He came to earth to save and restore lost sinners.
Oh, look what our All powerful God chose to do (condescending to reach mankind) to save us sinners! His Food satisfying Him was saving the lost!
I am anxious to meet the woman at the well . . I believe she was born and meant for this Divine appointment.
What amazing transformation!! The LORD GOD came to earth, and knew from before time began, made an appointment with her, and transformed her to the living waters of salvation.
What Powerful Amazing Grace, our God left His Throne and came to earth to save mankind, relating Personally to His creation, drawing sinners to Himself, freeing those receiving Him from guilt~!
Our Lord graciously patiently revealed to the woman at the well as only He does, her sins . . this woman, an outcast had a Divine appointment with The Creator! He opened her spirit to 'see' the Messiah standing right there in her midst . .
As tired as our Lord Lord was that day, He knew He had to go through Samaria . . and sat down by the well. Oh, the depth of this Divine appointment!
There obviously was an attitude by the Samaritan woman, at first, asking 'this Jewish Man who approached her: "You are a Jew and I am a Samaritan woman. How can you ask me for a drink?"
Jesus answered her, "If you knew the gift of God and who it is that asks you for a drink, you would have asked Him and he would have given you living water." . . John 4:10
What Divine Patience and gentle approach to her . . so much so, the woman exclaimed: , "Sir, give me this water so that I won't get thirsty and have to keep coming here to draw water."
This Divine appointment was hers to behold, teaching her that true worshipers will worship the Father in the Spirit and in truth, for they are the kind of worshipers the Father seeks.
The woman said, "I know that Messiah" (called Christ) "is coming. When he comes, he will explain everything to us."
Then Jesus declared, "I, THE ONE speaking to you— I AM HE" . . .
God loves to save sinners!
"For your Maker is your husband, the LORD of hosts is His name; and your Redeemer is the Holy One of Israel; He is called the God of the whole earth." — Isaiah 54:5