***
FAIR USE FOR DISCUSSION & EDUCATIONAL PURPOSE ONLY
***
http://www.spaceweather.com/archive.php?view=1&day=19&month=06&year=2011
***
HOW'S THE WEATHER?
"Lately, the Sun has been behaving a bit strangely," declare Lika Guhathakurtha (NASA) and Dan Baker (U. Colorado) on the opinions page of yesterday's New York Times. In 2008-2009, solar activity plunged to a hundred-year low; and now that the sun is waking up again, no one is able to predict what will happen next. "Will solar activity continue to be sluggish, or will solar storms return with pent-up vigor?" they ask. Good question! Read the full editorial here.
***
LIGHT BRIDGE
The primary core of sunspot 1236 is divided by a brilliant canyon of light--also known as a "light bridge" ------ measuring some 20,000 km from end to end. Amateur astronomer Howard Eskildsen photographed the phenomenon from his backyard observatory in Ocala, Florida. Follow the arrow: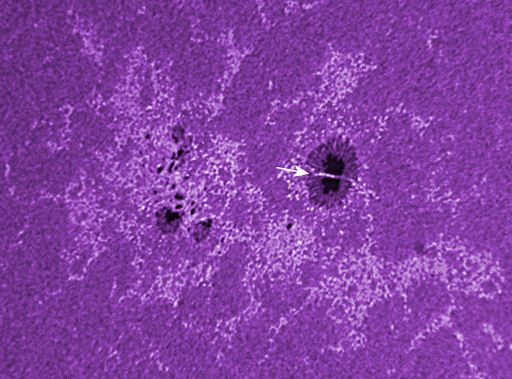 "I used a violet Calcium-K filter, which highlights the bright magnetic froth around the sunspot group as well as the light bridge cutting the main 'spot in two," explains Eskildsen. "Seeing was excellent."
The nature of light bridges is not fully understood. They often herald the break-up of a sunspot. Some research suggests that magnetic fields at the base of a light bridge are busy cross-crossing and reconnecting ------ the same explosive process that sparks solar flares. Does this mean the primary core of sunspot 1236 will explode? Or quietly fall apart? No one can say. Readers with solar telescopes are encouraged to monitor developments.
***
The Lord is near. Do not be anxious about anything, but in every situation, by prayer and petition, with thanksgiving, present your requests to God. And the peace of God, which transcends all understanding, will guard your hearts and your minds in Christ Jesus.