I posted this in the dreams and visions section, use discernment, and let's pray for the people in the Dominican Republic if this warning truly is from the Lord.
------------------------------------------------------------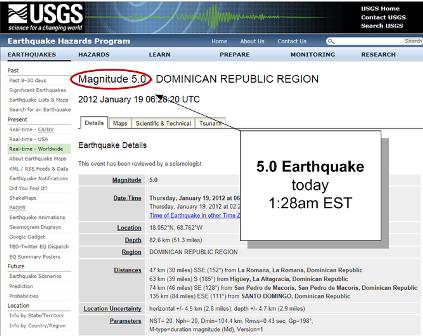 Please Note: The "warning" suggests that a ~5.0 earthquake will occur in the Dominican Republic PRIOR to the 12+ mega-quake and tsunami. A 5.0 earthquake occured this morning in the Dominican Republic as shown in the graphic above..
Please pray for these souls.
Below is the translated warning. Here is the hand-written note in Spanish:
Prophetic Warning of 12+ mag quake preceded by a 5+ mag in Dominican Republic:
"U R G E N T !
Read this please. Our Country will receive In January of the Year 2012- a Horrible EARTHQUAKE! God Revealed this to me and to two other friends. The LORD says that he shall not go back on this because the sins of the D.R. (Dominican Republic) has reached His presence. It comes with an intensity of 12.5°- …It comes with 2 aftershocks- one in the morning and the other in the evening. In the morning there will be a 5° quake: 2- In the afternoon/ evening one of 12.9° After this. THE SEA MOVES BACK, stronger than a tsunami You have to believe this and God sent me to say it to all. We must go up a ROCKY mountain because it comes bigger than in many countries Santiago is going to be totally under water Cotui, and Ocoa- The LORD says that two enormous rocks KMs. apart The first rock between Ocoa and the center of the island and the Center of the island and the second rock Under Santiago and Catui.- If you have children in school- and not believe this message- Do not let your child go to school in the week that begins on the (16), but close to if not- they will die in school I am saying the Truth- THIS might seem like a mystery movie to you. And I am the one who knows the way out and yet, you do not want to believe.
- Tony Pim"
To read the entire article click below: http://antesdelfin.com/profeciaterremotorepublicadominicanaenero2012.html
------------------------------------------------------------
I pray this is not coming soon, Father God, protect your children that may be in harm's way, if this major earthquake be in Your Will, then use it to wake people up to the lateness of the hour, and to bring souls into your Kingdom. Only in Jesus' holy name can we ask these things.
-Clay